Our Flag Football Leagues (9-14yrs) are a great way for kids to stay active and involved. We welcome both beginners and experienced players, and because our coaches are the quarterbacks we ensure equal playing time and a chance to touch the ball in every game.
Players of all skill levels enjoy the fast paced, non-contract indoor games. Experienced coaches play offense and teach defense making sure everyone gets the chance to be successful. Games are high scoring, have lots of action and are fun to watch.
9yrs-11yrs (Intermediate)
12yrs-13yrs (Senior)
Catching & routes
Defensive techniques
Action packed games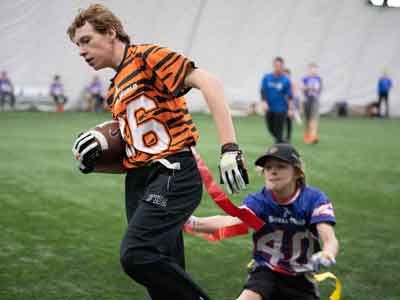 Introducing new players (5-6yrs) to football with imaginative games, drills, and scrimmages where during the season play evolves into full games with touchdowns!
Games where players (7-9yrs) develop in a supportive, safe and non-contact environment. Focus is on the basics and scoring touchdowns!
Full action football for high schoolers (14-17yrs) with adult referees, player QB's and rushers. Intense and very competitive.
Leagues (7-15yrs) and classes (5-6yrs) where players will learn new skills and play games in a fun, non-contact environment.
Individual and small group drills & games with lots of time for scrimmages. Football camp will challenge your (8-14yrs) player, while keeping them active and engaged!
Soccer World Football has long been a parent favourite. No contact and fair play. As a result, the youth football leagues sell out. Limited by fields & schedules, once full, we are unable to take additional players. Don't be left on the sidelines, register early!